This is a page dedicated to charities and ideas that I think will change the world.
Change the world with: Education!
The Job Foundation is about helping kids create bright futures for themselves.
One Acre Fund – A non-profit organisation that supplies smallholder farmers in East Africa with financing and training to reduce hunger and poverty.
Wikipedia – Free knowledge for the world. Why not support this? Have you used Wikipedia in the last year? Has it benefited your life? If so support it!
Giving What We Can – evaluates charities and builds a community of members donating 10% of their income to the most effective organisations in the world
Change the world with: Vaccinations!
End 7 is dedicated to eliminating 7 Neglected tropical diseases (NTDs) by the year 2020. For approximately 50 cents per year, they can treat and protect one person from all seven NTDs. I like this site because a little money goes a long way.
Partners In Health is a global health organization relentlessly committed to improving the health of poor & marginalized people.
GiveDirectly allows donors to send money directly to the poor with no strings attached. Read about a great study of unconditional cash transfers to "the poor" here. I've read it. My summary: People are better off and invest money to help themselves more in the future if you give them some money. They don't waste it.
Change the world with: Sponsorship!
It costs $25/month to sponsor a child. Will you really miss $25/month? Probably not.
Full disclosure: I personally sponsor 2 kids through this company, I have never had a problem with them. You also get hand written letters from the kids, about 2x a year and you can write them letters also.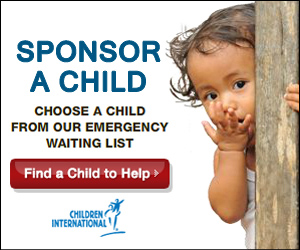 Change the world with: Clean water!
I have not started supporting this site, yet. But their TED talk is very powerful.
http://www.lifesaverusa.com/

Charity:Water. They have a nice website that shows where all their wells are. They are a very transparent NGO so you know where your money goes.
https://www.charitywater.org/
Change the world with: Micro Loans!
40% of the world's population lives on less than $2 a day, leading to malnutrition, disease, and ultimately untimely death. I bet you can spare $2 a day!
http://www.worldvisionmicro.org/